Investor updates that fual startups
Seamlessly keep investors and advisors engaged with our intelligent Slack integration, bridging the communication gap with ease.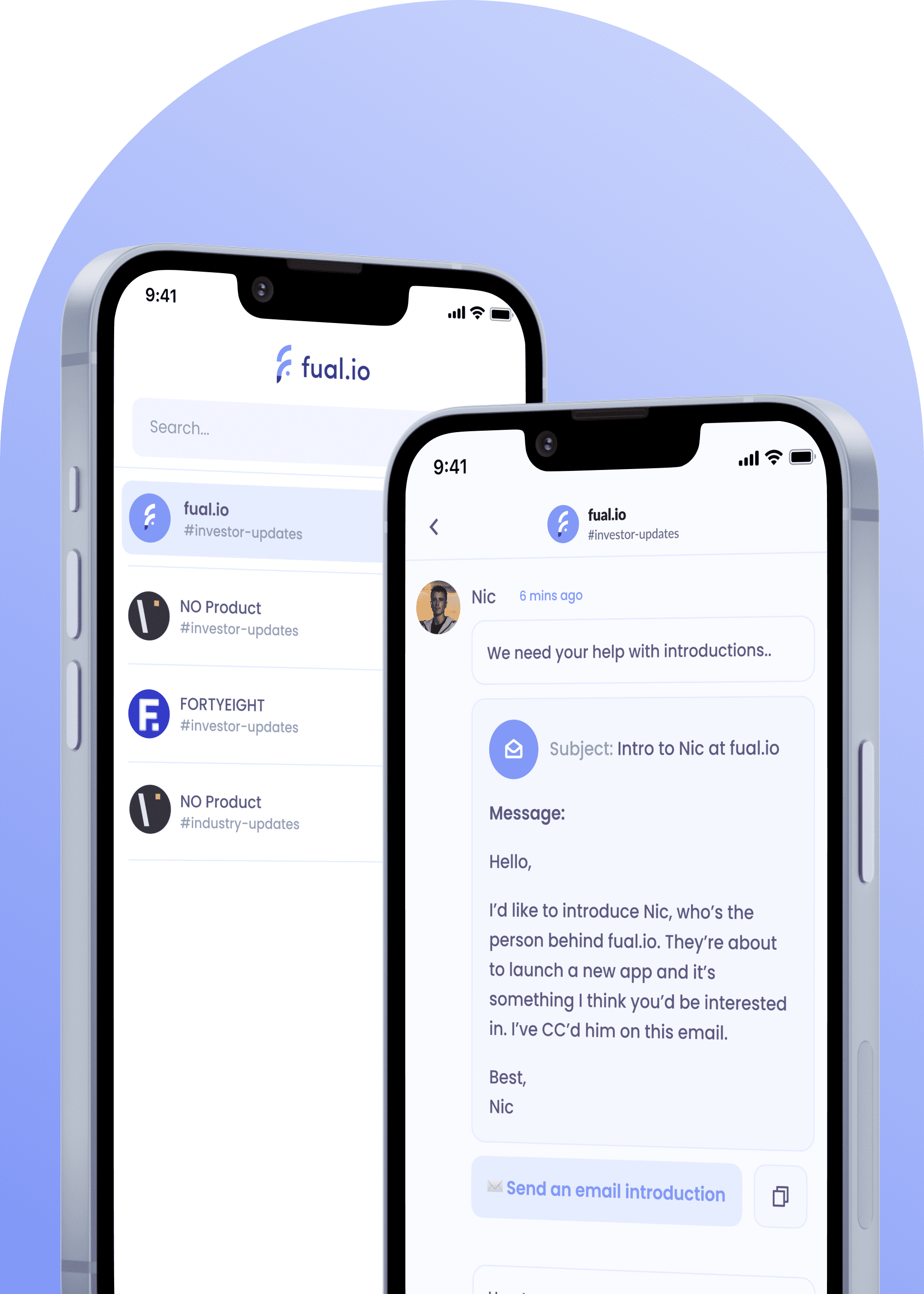 Tailored Features for the Modern Startup Ecosystem
Seamless Slack Integration for Real-Time Updates
Effortless One-Tap Actions for Investor Engagement
Simplified and Streamlined Communication Channels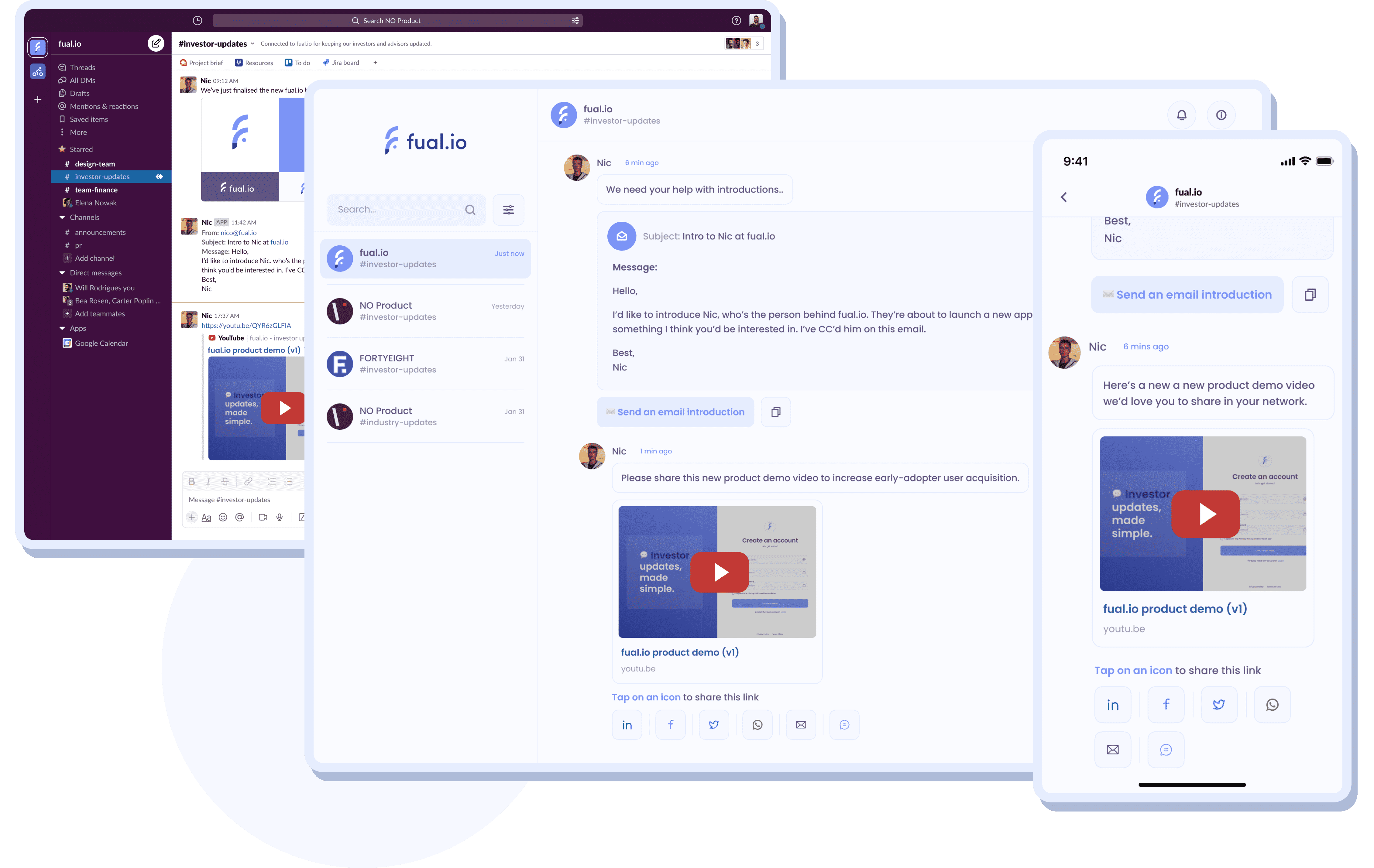 Empower Investor Advocacy
Cultivate a strong community of backers. fual.io fosters a sense of belonging among investors, compelling them to become active advocates for your startup's mission and progress.
Expand Your Social Reach
Magnify your startup's voice. Our 'One-tap' feature empowers investors to easily share critical updates, leveraging their networks to boost your brand's visibility.
Accelerate Networking with Quick Intros
Effortlessly expand your network. Use pre-drafted templates for introductions that investors can send with the click of a button, paving the way for new connections.
Intuitive Slack Integration
Streamline your updates. Our Slack bot syncs directly with your chosen channel, ensuring that investors receive consistent and timely updates without additional effort on your part.
Time-Efficient Updates
Maximize productivity by focusing on one-way updates that keep investors informed and engaged, without the time drain typically associated with investor relations.
Multi-Device Web App
Conveniently access fual.io on-the-go. Our progressive web app adapts to any device, offering a seamless experience from your desktop to your smartphone.
Join fual.io Today
Startup?
Link your Slack to fual.io in moments and start streamlining your investor updates.
Connect to Slack
Investor?
Sign up to receive concise, impactful updates from the startups in your portfolio.
Create Investor Account
Are You a Fund or Corporate?
Connect your portfolio companies with your corporate team, fostering innovation and collaboration.
Get in touch
I built fual.io to turn investor updates into a seamless dialogue, fostering community and collaboration I'm truly passionate about.
Streamlining Startup-Investor Communication
From setup to notification: the simple steps to unify your startup and investor communications
Step 1
Connect Slack
Connect your startup's Slack with fual.io for real-time update sync.
Step 2
Invite investors
Send invites to your investors, allowing them to join fual.io and stay updated.
Step 3
Share updates
Post regular updates in your dedicated Slack channel, automatically syncing with fual.io.
Step 4
Instantly notified
Investors receive real-time notifications for new updates, keeping them closely connected to your startup's progress.

fual

innovation by connecting startups with your workforce

Connect your workforce with portfolio startups, fostering an ecosystem of growth, innovation, and shared success.
Foster a culture of innovation across your corporate landscape
Enable real-time collaboration between corporates and startups
Drive internal knowledge-sharing and engagement with startup ventures
Get in touch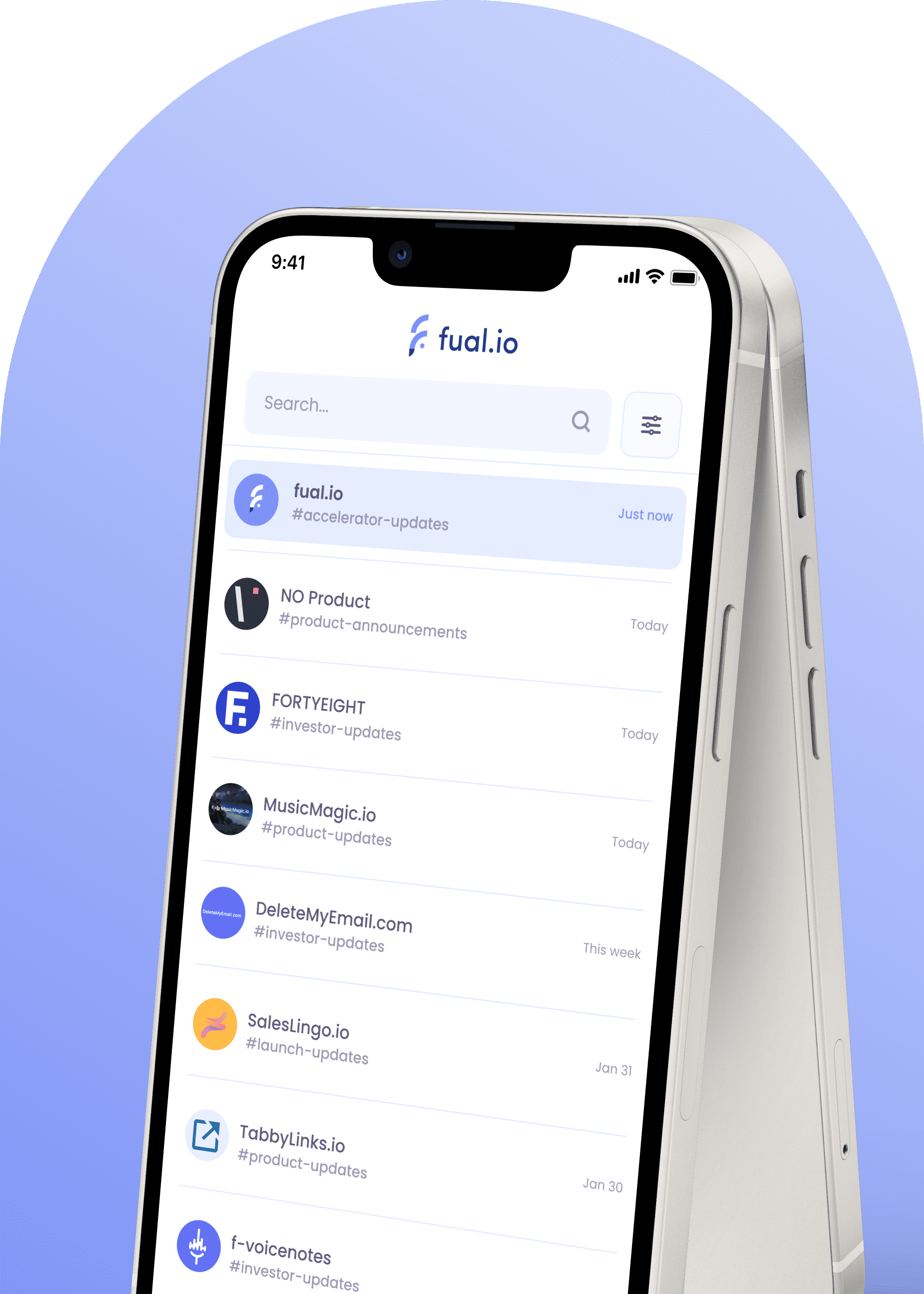 Instant Scale
---
Leverage fual.io to scale your corporate accelerator's reach, enhancing visibility and interaction with every invested startup.
Deepen Relationships
---
Use fual.io as a tool to build strong, ongoing relationships between your corporate team and the startups driving future innovation.
Sustained Engagement
---
Ensure lifetime engagement with your startups, keeping your corporate team informed and involved at every stage of their journey.
Ready to Integrate fual.io
fual.io

in Your Organisation?
Please provide a valid email address.
FAQs
Your Questions, Answered
Need more insights or ready to start your fual.io journey? Reach out to us via [email protected]